Next Order Dates are November 26 and December 10

Sunday, November 19 is pick-up day.
Specials until Dec 19th include Esso 3%, Canadian Tire, 5% Winners/HomeSense 8%, Stokes 8%, PetSmart 6%, Old Navy/Gap/Banana Republic, Hudson's Bay 5%, LaVie en Rose 11%, and Sunglass Hut 7%. Thank you for your support.
\
See below a wonderful success story!
To order online go to the site and sign-up or sign-in  http://www.fundscrip.com/Sign-up.aspx
Group Code is 8FCEKS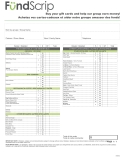 Download a Fundscrip Order Form Here
Short Form
Long Form
Please encourage others in our church (friends, family, whoever) to use the program. I am always available to help someone get started.
You can always contact me for any issues you have regarding Fundscrip  by using the contact form below or by phone.
I am glad to help.
Thank you.
Susan Cameron (SPC Fundscrip Coordinator)
Phone  902-436-1171