The upcoming order dates are Jan 21st & Feb 4th.
Promotions for January are:
Shell 3%, Indigo/Chapters/Coles 7.5 % and Starbucks 6%. These are all
great cards to stock up on, to try to get through this cold winter.
Thanks for your support in 2017, let's do it again this year.
To order online go to the site and sign-up or sign-in  http://www.fundscrip.com/Sign-up.aspx
Group Code is 8FCEKS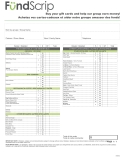 Download a Fundscrip Order Form Here
Short Form
Long Form
Please encourage others in our church (friends, family, whoever) to use the program. I am always available to help someone get started.
You can always contact me for any issues you have regarding Fundscrip  by using the contact form below or by phone.
I am glad to help.
Thank you.
Susan Cameron (SPC Fundscrip Coordinator)
Phone  902-436-1171