Sunday, September 10 is Pick-up Day
 Specials this month are Shell 3%, Vie en Rose 11%, Old Navy/Gap/Banana Republic 10%, Hudson's Bay 5% ,Pizza Pizza 12% .
The next order date will be Sunday, September 17.
Order forms can be found on the bulletin board in the foyer or on this webpage below. Thank you for all your support in this fundraiser.
To order online go to the site and sign-up or sign-in  http://www.fundscrip.com/Sign-up.aspx
Group Code is 8FCEKS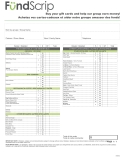 Download a Fundscrip Order Form Here
Short Form
Long Form
Please encourage others in our church (friends, family, whoever) to use the program. I am always available to help someone get started.
You can always contact me for any issues you have regarding Fundscrip  by using the contact form below or by phone.
I am glad to help.
Thank you.
Susan Cameron (SPC Fundscrip Coordinator)
Phone  902-436-1171