December 1, 2022
Alright Everyone!
The first weekend of December is always a busy one and this year is no exception!  Here is what our SPC family should know as we head into this weekend:
COOKIES & CHRISTMAS!
It's that time again! Possibly one of my favourite events of the year – Cookies & Christmas! Everyone is encouraged to join us Saturday morning at the church from 10 am to 12 for a time of crafts, cookie decorating, singing and story-telling. This is an all ages event so we hope that as many people as possible will join us! We can't wait to see you there!
SUNDAY'S WORSHIP SERVICE
This Sunday we light our second Advent candle representing PEACE.
After listening to the scripture readings: Isaiah 11:1-10 & Matthew 3:1-12, the message  ("Advent – A Season for Looking Around")  will encourage us to consider some of the important ways that we can work towards peace in our lives, in our families, and in our communities.
FOOD DRIVE
This week we will be wrapping up our Christmas food drive. A huge THANK YOU to everyone who has participated so far! I think that this may possibly be the most donations we have ever received and I could not be more proud of the generosity demonstrated by our SPC family! If you haven't had a chance to drop off a donation yet, there is still time. Non-perishable food items can be brought with you on Sunday morning, or a financial gift can be left in the Giving Jar in the foyer.
WHITE GIFT SUNDAY
This Sunday is also WHITE GIFT SUNDAY.
The roots of White Gift Sunday can be traced back to a small Methodist church in Ohio in 1904. The story is told of a minister's wife who initiated the idea in order to solve the problem of inequity of gifts given at the Sunday School Christmas party. Instead of focusing on receiving gifts, the focus shifted to bringing gifts to Jesus that could in turn be shared with people around the world who did not have much. All the gifts would come wrapped in plain white paper, so that no one would know which was an expensive gift and which was a more modest one. No one would feel ashamed of their gift and everyone would share in the joy of giving to others.
Each year at SPC we continue that tradition. You can bring gifts, wrapped in white paper or a bag, with you on Sunday morning.
During the service we will be saying a special prayer of thanksgiving & dedication over all that has been offered – both food donations and white gifts. In the upcoming week all of the donated items will be taken over to the Salvation Army to assist in the important outreach ministries that they provide in our community during this time of year.
SALVATION ARMY KETTLE DRIVE – VOLUNTEERS NEEDED
Finally, I received a note from the Salvation Army about this year's Kettle Drive. They are looking for volunteers to help them collect the funds they rely on this season to help those in need. The shifts are two-hours in length and throughout the Summerside area. The locations include stores like Superstore, Giant Tiger, Sobey's, etc. If you would like to help and have some fun, please call Wilma at 902-954-1908.
Enjoy this busy and fun-filled weekend! I look forward to seeing you all soon!
Blessings,
Rev. Brad Blaikie
---
November 26, 2022
Happy Saturday Everyone!
Here is what's happening around Summerside Presbyterian this weekend.
SUNDAY'S WORSHIP SERVICE
This Sunday is the first Sunday of the season of Advent! We will be lighting our first Advent candle representing HOPE and celebrating the Sacrament of Communion. Because taking part in The Lord's Supper is something that everyone is invited to do at SPC, our children will be staying in throughout the service. During the message "Advent – A Season for Looking Back", the children (and all of us!) will be reminded that as we wait for the celebration of Christmas, it is important to remind ourselves how God has been at work in the past.
Our scripture readings for the service are Isaiah 9:1-4 & Romans 13:11-12. As we prepare ourselves for worship, it would be good to spend some time thinking about a moment when you might have felt God at work in your own life. Maybe you have had a moment when you felt tired, alone, or afraid and suddenly felt God's presence. Perhaps you may even want to share during the service what that experience was like!
PARTICIPATE IN WORSHIP
Participating in worship can be a very meaningful experience, particularly during the season of Advent! If you would like to take part please don't hesitate to let me know. I'm always looking for people to read scripture, light Advent candles, take up the offering, share gifts of music – there are countless ways that you can be involved!
CHOIR
Do you love to sing? Have you thought about joining the choir? The choir is always ready to welcome new members! No experience is necessary and people of all skill levels are encouraged to join! If you are interested, you can speak to either myself or Dean Perry.
FOOD DRIVE
We are nearing the end of our Christmas food drive. Our response this year has been tremendous so a huge THANK YOU to all those who have already given. If you haven't had a chance to take part yet, non-perishable food items can be brought with you on Sunday mornings or dropped off at the church (Tuesday, Thursday & Friday mornings) throughout the week. On the table in the foyer there is also a "Giving Jar" for those who wish to make monetary donations. Any funds received will be used to do some shopping to top up what has already been given. You are doing great work SPC!  Keep it up!
I hope to see all of you soon!
Blessings,
Rev. Brad Blaikie
---
November 19, 2022
Good morning!
Here is your weekend update with some information about what is happening in and around Summerside Presbyterian Church.
SUNDAY'S WORSHIP SERVICE
This Sunday is the last Sunday of the church calendar – a week that is often called "Reign of Christ Sunday" (or "Christ the King Sunday"). On this day we are reminded of the church's ancient proclamation that Christ is the true King who reigns. However, our Gospel reading for the morning (Luke 23:33-43) relates a conversation that Jesus has with a known criminal while they are both hanging on crosses. In the message "Christ the King or Christ the Crucified" we will be exploring the question of what kind of king gets put to death on a cross.
SUNDAY SCHOOL
Did you know that our SPC Sunday School is up and running? How exciting to have the children of the congregation joining us for the opening of worship each week! After a brief time in worship they proceed downstairs for an age-appropriate lesson and activity. If you have children (or grandchildren) that you would enjoy making new friends and learning about God's love, we would be delighted to have them involved!
LOCAL MISSION – FOOD DRIVE
Just a reminder that our local Food Drive campaign is still happening. Non-perishable food items can be brought with you on Sunday morning, or a financial donation can be dropped in the "Giving Jar" located on the table in the foyer. The funds collected will be used to do some shopping to add to whatever items are donated. There has already been a GREAT response to this project as is evidenced by the ever-growing pile of food in the church foyer. THANK YOU to everyone who has participated so far!! If we keep up the generosity I have a feeling that this could be our largest donation to the food bank yet!
MEALS ON WHEELS
Do you have a driver's license and a reliable vehicle? That's all you need to get involved with our local Meals on Wheel program! There is currently a need for volunteer drivers. An hour a day can make a big difference in the lives of seniors in our community. For more information call 902-888-8335.
I hope to see you soon!

Rev. Brad Blaikie
---
November 12, 2022
Good Morning Everyone and welcome to a rainy Saturday!
Even though the weather is gloomy, there is still lots going on over the next couple of days to lift your spirits!
THREE OAKS CHRISTMAS CRAFT SALE
It's hard to believe but it is that time of year again! The Three Oaks Christmas Craft sale is happening this weekend at our local Three Oaks High School. The hours are today from 9-8 pm and Sunday from 10-5 pm. This is a great opportunity to support local artisans and maybe even get a jump on that Christmas shopping list!
SUNDAY'S WORSHIP SERVICE
On Sunday we are going to listen to an ancient vision that the prophet Isaiah received concerning the coming of God's Kingdom (Isaiah 65:17-25). In our message titled "Back to the Future", we will be exploring how Isaiah's vision might help us in our day-to-day lives when we feel overwhelmed and discouraged. I hope everyone will join us!
LOCAL MISSION – FOOD DRIVE
It is one of the great truths of scripture that when God's people offer what they can – even if their offering is small – God can bless it and use it, multiplying it to do great things! Last week the Sunday School children began work to assist our congregation in collecting food for our local food bank. Food items can be brought with you on Sunday morning, or a financial donation can be dropped in the jar in the foyer. We will use the funds given to do some shopping to top up the other items donated. What an easy way to get involved in a local mission and to help those in our community!
CIRCLE OF JOY!
Our local AMS group, called the Circle of Joy, will be meeting/ Tuesday afternoon at 1:30 pm at the church. I know that they are always ready to welcome new members! If you would like to be involved you can contact Marilyn Bigger at (902) 786-4050.
MINISTRY CHAT FOLLOW UP
In the Bible, Peter writes "Each of you should use whatever gifts you have received to serve others, as faithful stewards of God's grace in its various forms." (1 Peter 4:10) With that truth in mind, and as a follow-up to the discussion that took place after worship on October 23rd, I encourage everyone to prayerfully consider if you might be able to strengthen our church's ministry in one or more of the following areas:
Fellowship (contact person is Jacqueline Reeves (902) 432-4600 and Nancy MacDougall (902) 436-3644
Mission (contact person is Wendy Gallant (902) 436-2939
Pastoral Care (contact person is Nancy Harvey (902) 887-2956
Christian Education (contact person is Debbie Richard (902) 888-8799
Worship (contact Rev. Brad (902) 888-9841
Finance & Property (contact person is Al MacIntyre (902)436-7776
If you feel called to participate in any of these ministries, please contact the identified individual!
I hope you have a great weekend and I look forward to seeing you soon!
Rev. Brad Blaikie
---
November  4, 2022
Hello everyone,
Welcome to the weekend!  Here's is some information that you might find useful for the weekend:
SUMMERSIDE COMMUNITY FRIDGE GRAND OPENING!!
Did you know that a group within Summerside recently opened a community fridge?  What a great initiative!
Located on the corner of Foundry & Granville Streets, the community is celebrating its grand opening on Saturday at 1 pm. There will be live music, a ribbon cutting ceremony, BBQ by donation and a 50/50 draw. Food and monetary donations will also be accepted on site.  What a fun and easy way to support families in our community who are struggling to put healthy food on their tables due to rising food costs! I hope that if you are available you will join us for this celebration.
A recent comment from a Facebook user:
"Today I witnessed what seemed to be a young mother and her child getting food from the community fridge. The child was so excited at whatever she had found in the fridge that she was jumping up and down. Mom had a huge smile on her face. I got goosebumps, and a lump in my throat. I wiped happy tears from my eyes, as I continued home. I felt privileged to have witnessed this, as it gave me a snapshot of the importance of this amazing gift/service for the community that I love so much. It also gave me inspiration, greater insight and empathy. WTG everybody!"
SUNDAY'S WORSHIP SERVICE
With the approaching of Remembrance Day, our service will begin with a time of remembrance and thanksgiving for the men and women who gave of themselves for the freedoms we all enjoy. Together we will sing our national anthem, hear the names on our Honour Roll read, and then observe a moment of silence.
After our time of remembrance, we will listen for God's Word as it comes to us from the scriptures. Many of us remember learning the story of Zacchaeus when we were children in Sunday School – that "wee little man" who climbed a sycamore tree in order to see Jesus when he passed by. In our message, "Zacchaeus: Repentant Sinner or Hidden Saint", we will be revisiting that story as it is found in Luke's Gospel (Luke 19:1-10) and wondering if there might be more to Zacchaeus than we initially assumed.
I wonder if the story of Zacchaeus might have anything to say to us today about achieving peace in our lives and the world around us… 🤔
TIME CHANGE
Also, a friendly reminder that this Sunday we set our clocks back an hour!  But don't worry, if you forget and find yourself at church an hour early I'm sure we can find something for you to do! 😉
Have a great weekend everyone! Get out, if you are able, and enjoy the beautiful weather!
Rev. Bradford Blaikie
---
October 28, 2022
Happy Friday Everyone!
Here is some upcoming information about what's happening this weekend with our SPC family.
PIZZA & GAMES NIGHT
It has been quite a while since we have been able to gather together for an evening of pizza and games and we are excited to be able to do so once again!  Everyone – young and old alike – is invited to the church this evening at 5:30 pm for this informal time of food and fellowship. Bring your favourite game and as many friends as you want!  I look forward to seeing you there!
SUNDAY'S WORSHIP SERVICE
The last Sunday of October is always a busy one. In addition to being celebrated by some churches as "Reformation Sunday," it is also a time to think about the upcoming significance of All Saints Day on November 1st. Many of us are also busy preparing for the celebration of Halloween on Monday. Despite our modern-day practices of dressing up and going "trick or treating", is it possible that Halloween, together with All Saints Day, might point us toward a deep spiritual truth? That is the question I will be exploring in our message titled: "Who's Afraid of the Dark?"
PUMPKIN CARVING PRAYER
And last but not least, a pumpkin carving prayer. I know there is a good chance that many of us will find ourselves carving out a pumpkin over the next day or two. I came across this little "Pumpkin Carving Prayer" online and thought it was worth sharing. Lots to keep in mind as we carve this year's jack-o-lantern!
Dear God,
As I carve my pumpkin help me say this prayer:
Open my mind so I can learn about you. (Cut the top off the pumpkin)
Take away all my sin and forgive me for the wrong things I do. (Clean out the inside)
Open my eyes so your love I will see. (Cut the eyes out)
I'm so sorry for turning up my nose to all you've given me. (Cut the nose out)
Open my ears so your Word I will hear. (Cut out the ears)
Open my mouth so I can tell others you're near. (Cut out the mouth)
Let your light shine in all I say and do! Amen. (Place a candle inside and light it)
Have a fun and safe weekend!
Blessings,
Rev. Brad
---
October 22, 2022
Good Morning Everyone!
I hope that everyone is enjoying this beautiful October Saturday.
WORSHIP TOMORROW
Tomorrow morning's sermon is titled "Pharisees & Tax Collectors: Just Another Old, Outdated Story by Jesus?" and will be exploring the parable that Jesus told about the Pharisee and the tax collector going to the temple to pray (Luke 18:9-14).
FELLOWSHIP & MINISTRY CHAT
Throughout the pandemic one of the things we have missed most has been the opportunity to get together with others. Therefore I am excited to be able to remind you that tomorrow after our service everyone is encouraged to join us in the Fellowship Hall for a time of tea and coffee (and treats!)  During this fellowship time we will continue our ongoing conversation about what SPC's future ministry may look like. Please plan to join us if you are able!
FOOD DRIVE
The response to the food that we were able to donate to our local food bank over the Thanksgiving weekend was VERY appreciated! Thank you once again to everyone who donated food items for this great cause. Now we are moving forward to the second-phase of our food drive – you guessed it, Christmas!  Beginning tomorrow, and carrying through to the end of the season of Advent, we will be accepting more donations of non-perishable food items. Please keep this important ministry in mind as you are heading out the door on Sunday morning. What may seem like a small donation from us can make a significant difference for those struggling to make ends meet.
Blessings to each of you and I look forward to seeing you in the morning!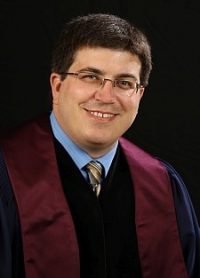 Rev. Brad Blaikie
---
September 25, 2022
The Lord made the earth by his power;
by his wisdom he created the world
and stretched out the heavens.
At his command the waters above the sky roar;
he brings clouds from the ends of the earth.
He makes lightning flash in the rain
and sends the wind from his storeroom.
~ Jeremiah 10:12-13 (GNT)
As I sit down this evening to record some thoughts, I am surrounded by darkness except for a few candles that provide light. This is the end of our second day without power. Over the weekend Hurricane Fiona ravaged the Maritimes leaving in her wake a path of large-scale destruction, the likes of which we have never before seen first-hand. The night she made landfall was terrifying; sitting, again in the dark, listening to the wind as it seemed to roar and hearing things snap and break all around you – trees, hydro poles, and parts of buildings.  When daylight finally arrived, even amid the ongoing gusts, we were able to see the damaging effects that such a powerful wind can cause.  The entire experience was both humbling and remarkable!
It is tempting, and perhaps even appropriate, to join with the prophet Jeremiah and other biblical writers who see God's awesome power on full display in such acts of nature. While the force of the storm was indeed awe-inspiring, it wasn't necessarily the only place where power has been on display over the past several hours.  As much as feeling the power of Fiona's winds was impressive, I have been even more impressed with how I have felt the power of God's Spirit that has continued to blow throughout our Atlantic provinces in her aftermath. I felt the impact of God's Spirit as my neighbours banded together to help one another. God's power has been on display in every act of caring and kindness that we continue to see around us. It was on display when one neighbour offered me the use of his generator. On display again as another, upon having their power restored, immediately ran an extension cord from their house to my refrigerator. Still again when the farmer up the road made soup and announced to our community that his business was open, and that the soup was on the house! God is surely at work in the volunteers who are setting up and working at warming shelters, those donating time and resources, and those working tirelessly to see to it that people's immediate needs are being met.
Yes, it is easy to look at the powerful acts of nature and see them as manifestations of God's power. But as I have experienced over the past couple of days, God's awesome power is most often not heard in the wind or in the fire, but rather in the gentle voice of a friend and neighbour saying, "Here, let me help." For that kind of power, I know all of us in the Maritimes can praise God and give thanks!
Rev. Brad Blaikie
---