KD LunCH Cancelled Until Further Notice (Covid-19)
Want to be involved in a great mission

project and in

teract with some awesome

youth?

KD Lunch is starting back up this

Thursday, September 12 and is looking for

volunteers and donations!

Set up and prep

begins at 11:00 am and clean up usually ends by 1:00

pm.

If you have some free time, you can sign up to

come once a week or once a mont

h! Signup sheet is in

the lobby.

If you can help out with donations we require

Kraft dinner, cookies, fruit, ketchup,

paper

plates and

cups.

Come and join the fun!

Thanks to everyone for

your support

 
Please click here to contact Coordinator, Debbie Richard.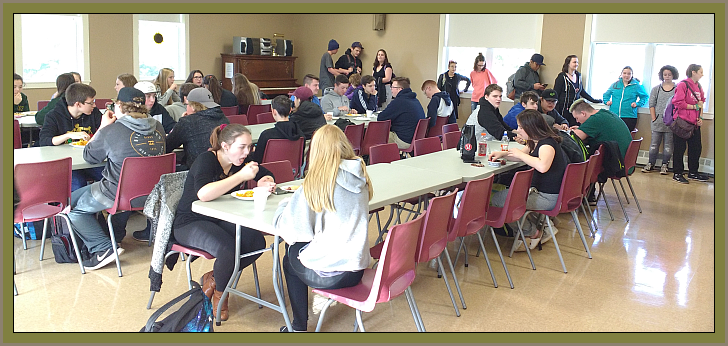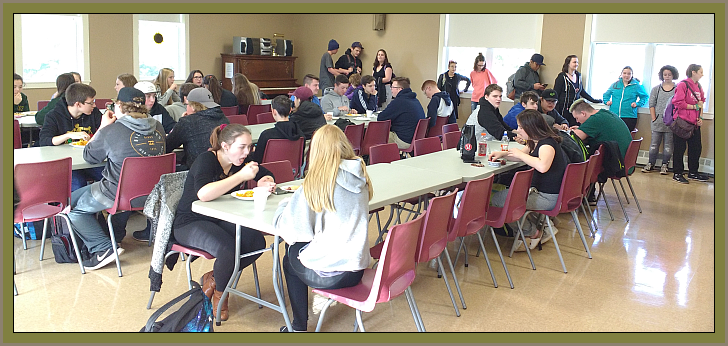 The Kraft Dinner Lunch program is an outreach project of Summerside Presbyterian Church in which the youth of Three Oaks Senior High, located right next door to us, are invited over every Thursday at noon to share lunch with us.
The first goal of our project is to make the youth feel comfortable and welcome in our church building. The second goal is to provide them with a warm lunch and give them a space to hang out over the lunch hour.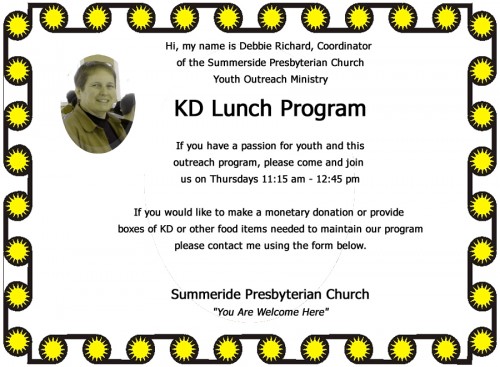 Whether you are a member of our congregation or would just like to help out you are invited to come and be a part of our outreach program. We would love to have you join us.
On the menu is Kraft dinner, rolls/bread, cookies and apples. All items are generously donated by our church family and we also receive some contributions from the community.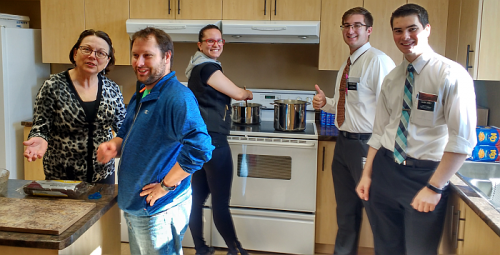 This project has been very rewarding for all involved. The students are very appreciative, friendly and polite.  Thank-you's abound all over.  Volunteers prepare the meal, set up and clean up. These hard working folk are always amazed at the great attitudes of the students and go home knowing they have made a difference in the lives of these youth.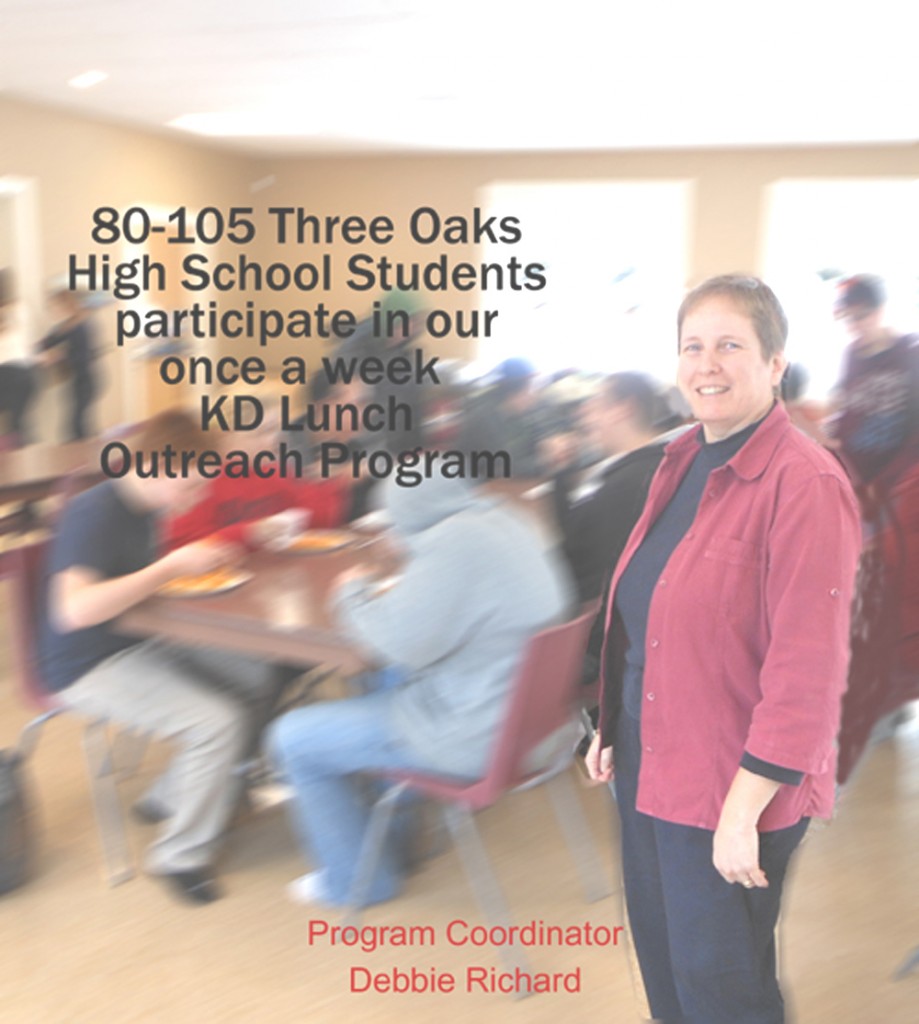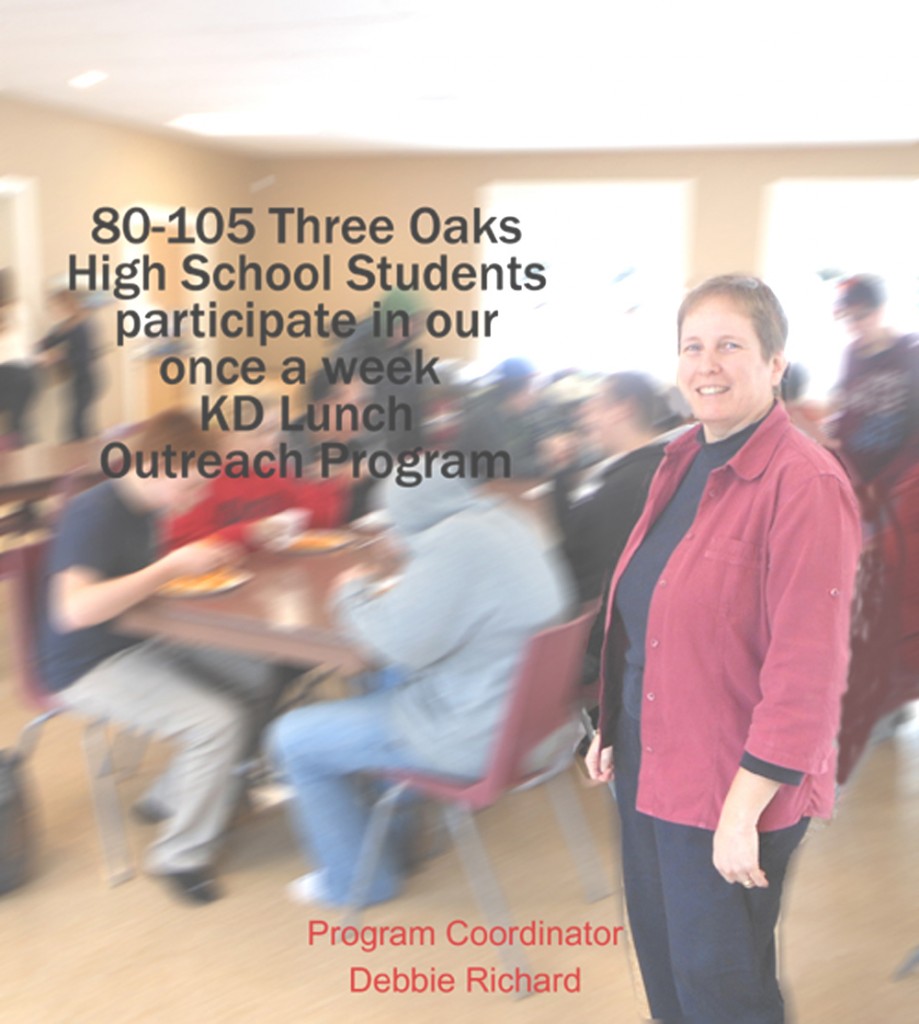 Those individuals who are unable to be a part of this in person are always supportive with donations of all kinds, including KD, cookies, ketchup, paper plates and cups (we try to be eco-friendly) and dollars. It is a win-win situation.
The bonus in all this is the relationships that are being made and with this comes the sharing of student talents, including those that will dazzle us with their music skills on the piano in the corner.  Often, the students will pitch in to help in the kitchen and with cleanup. It is an awesome place for all of us to hang out on Thursdays at lunch.
The idea for this project came in May of 2010 when the youth of Summerside Presbyterian Church attended the annual spring PAYS (Presbyterian Atlantic Youth Synod) event in Truro, NS.  While they were there, their peers were telling them of a Kraft Dinner lunch program that was shared by St. James Presbyterian Church and other churches in the Truro area. They were excited by this idea and wanted to have a similar lunch program at our facility.
As their youth ministry person, I agreed that we would prepare KD at lunch for them if they would come….and if they would bring their friends. We began our first lunch in the fall of that year with a half a dozen youth coming.  By November we had a faithful group of about 15-20 that would come each Thursday at noon and so we recruited some volunteers to help us out.
Then came the wrecking balls. Our deteriorating church building needed to be torn down and was replaced by a new welcoming design. The new building certainly complimented what we were doing before and so we began again. Over the past couple of years the number of students coming to enjoy lunch with us has steadily increased. KD Lunch passes the 100 mark on a most occasions. It has been an awesome and rewarding experience and we look forward to sharing many more noon hours together.